Reba Kennedy is an AV-rated 25+ yr Lawyer and 9+ yr Professional Writer. Blogging since 2006; first e-book published in 2007.
Writing for web and print. Consulting with lawyers and writers on SEO and web-writing issues including indie publishing concerns, defamation (online reviews), and copyright infringement matters.
_________________________________________________
1.  Reba writes for web and print. She writes her own stuff as well as writing for others, usually lawyers and law firms.
WRITER HELPING WRITERS
She also consults with writers and website owners regarding legal concerns including copyright infringement and defamation issues (such as negative online reviews and unauthorized use of content or images).
ARTICLES
Reba's articles have appeared in a variety of national publications, including the Chicago Sun-Times, Reuters, CNN.com, Computer Shopper, AnswerBag, Chefs.com, and AllGreen, as well as regional publications across the country and trade publications like the Florida Defender.
E-BOOKS
Working with famed marketing guru Bob Bly, Reba was a pioneer in the e-book marketplace: her first e-book, Legal Issues for Writers, was published by CTC Publishing ($29.95) in 2007.
In 2011, Reba was honored to be asked by nationally recognized criminal defense lawyer and founder of the Florida Capital Resource Center, Terence Lenamon, to co-author a public-interest book published solely for Kindle readers, as The Death Penalty Indigent Defense Crisis: Representing the Poor when the State wants to Kill Them and it's Paying Your Bill.
Reba publishes her own e-books under her own name and under a pen name (or two).
She has also ghostwritten e-books for others of varying word count (7500 – 85,000).
In addition to writing e-book content, Reba advises writers on issues related to e-book publishing (cover art, contracts, and more) as well as self-publishing concerns.
BLOGS
Her voluntary simplicity lifestyle blog, Everyday Simplicity, became nationally syndicated in 2006 and a subscription to her blog RebaKennedyLawyerWriter appears on Amazon.com.
Reba was honored to be entrusted with co-authoring a public interest blog with Judge Tom Rickhoff in 2008 – 2010, where information helpful to the community was shared (e.g., "10 Tips When Visiting the Courthouse," and "Caregiver Support: Angel Food Ministries Is Great – Quality Food for Half Price.").
Reba has co-authored a blog focusing on death penalty issues with Terence Lenamon since 2009. She has also acted as ghostwriter and writing coach to lawyers and law firms publishing blawgs around the country.
SEO CONTENT FOR TOP RANKING
Important to those interested in internet publications, Reba consistently achieves top Google rankings (top 1-5) in search results numbering in the millions with these results holding steady over a period of years. She keeps up with the latest developments in Google search engine requirements as well as that of competing search engines Bing and Yahoo on a daily basis. Reba shares updates and new SEO info both through her blog posts and G+ posting as well as notifying clients personally of possible search engine ranking issues that may apply to them.
WEB SITE CONTENT
Early in her writing career, Reba worked as an independent contractor to the nationally-known legal marketing firm PaperStreet Web Design, communicating with law firms around the United States (and around the world) and writing website content incorporating search engine optimization (SEO) standards necessary to compete for the top Google Search Engine rankings in the competitive internet legal marketing arena.
Examples of that early SEO content work include:
IN-DEPTH ARTICLES, WHITE PAPERS, POSITION PAPERS, SPEECHES
Today, Reba continues to write for law firm clients needing e-book, blogging, in-depth article, or white paper content.
She's been known to write speeches for clients that have been presented at such prestigious locales as conferences hosted by the London School of Economics.
CONSULTING WITH LAWYERS
Reba also provides consulting services to individuals and firms seeking support and guidance regarding internet publications, both in building and maintaining social media strategies as well as writing content for websites, blogs, in-depth articles for the web, and other works intended for publication on the internet.
For more information, consult Reba's Amazon author page, or write her at [email protected] if you are interested in learning more about her portfolio or reviewing .pdf versions of her published work.
2.  Reba is an AV-rated Texas Lawyer, too.
Reba has been consistently given an AV- Preeminent (TM) Rating – Martindale Hubble: "a lawyer's peers rank her at the highest level of professional excellence."  She was named one of the Top Lawyers in Texas – 2013.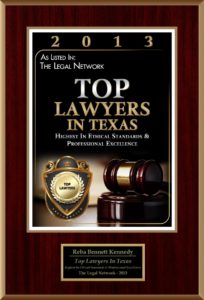 LAW LICENSURE
1986, State Bar of Texas; 1990, United States District Court for the Western District of Texas; 1990, United States District Court for the Southern District of Texas; 1992, United States Court of Appeals for the Fifth Circuit; 2000, Certified by State Bar of Texas to act as attorney ad litem upon appointment by the courts.
EDUCATION AND HONORS
National Bar Register of Preeminent Women Lawyers – Inductee, Inaugural Edition 2011; AV-Preeminent Rating – Martindale.com; NITA College of Advocacy March 1991; University of Texas School of Law, Doctorate of Jurisprudence May 1986; Dean's Award for Distinction 1985; Who's Who of American Law Students; University of Texas at San Antonio, Bachelor of Business Administration, Finance, magna cum laude May 1983; National Dean's List 1981-1983; Omicron Delta Epsilon; Alpha Chi; Beta Gamma Sigma.
MEMBERSHIPS
State Bar of Texas; William B. Sessions Chapter, American Inns of Court (2000-2003); Texas Bar Foundation; American Mensa, Ltd.
LEGAL EXPERIENCE
Reba's legal experience includes the following:  (1) attorney-in-charge, lucrative settlement (representing plaintiffs) of multi-million dollar legal malpractice matter involving former Texas county judge on eve of trial in hometown venue; complex, tiered settlement of multi-million dollar stockbroker fraud/conspiracy matter; (2) appellate counsel, numerous successful judgments upon motion, both on independent docket and as support counsel for various attorneys, state-wide; appellate representation including oral argument at both state and federal level (Fifth Circuit); (3) attorney co-counsel, representation in multi-million dollar controversies including (a) an international software design contractual dispute in excess of two million dollars ($2,000,000.00); (b) construction litigation involving delay damages and extra work claims on a multi-structured project, claims in excess of eight million dollars ($8,000,000.00), tried to verdict over a six week period (thereafter responsible for appeal as attorney in charge of this $4,000,000.00 judgment); and (c) three month trial coordination of seven lawyer team for victorious six week trial to verdict of wrongful death claims (in excess of $100,000,000.00) made against major grocery chain based upon respondeat superior; and (4) served as Bexar County Commissioner – Eminent Domain Proceedings 2006 – 2008.